Welcome to ChemTHEATRE Wiki!! †
About ChemTHEATRE †

Chemicals in the THEATRE:Tractable and Heuristic E-Archive for Traceability and Responsible-care Engagement
ChemTHEATRE stores the environmental monitoring data scattered in the published papers and reports in one database.

Easy to download the monitoring data in text style

ChemTHEATRE stores the valuable data in tsv file, which is easy to use for analysis.

For Details of ChemTHEATRE => About
Advantages of submitting your data to ChemTHEATRE †
Your papers have more chance to be read, cited or used †
Your valuable data have more chance to be utilized in society †
ChemTHEATRE stores all the data in text style and allow users to export them in text style.
=>This encourages researchers to utilize your data for modeling or risk assessment since ChemTHEATRE eliminates the time-consuming tasks such as converting the data in pdf or excel file to those in text style.
You can use ChemTHEATRE as your online storage †
You never lose your data and metadata, even after your students or researchers leave your lab.
You won't lose your data, even though your PCs are broken or lost.

Easy access to your own data as well as data provided by other researchers †
You can reach your data anytime and anywhere since ChemTHEATRE stores your data online.

You can review old data whenever you need.

It is easy to follow change of a chemical concentration over the years.

You can save time! †
ChemTHEATRE checks the individual data for you before registration and store your data properly.
You can use your time for your further research since ChemTHEATRE carry out the time-consuming task.
ChemTHEATRE stores your monitoring data, metadata such as sample info. and your paper/report as one project.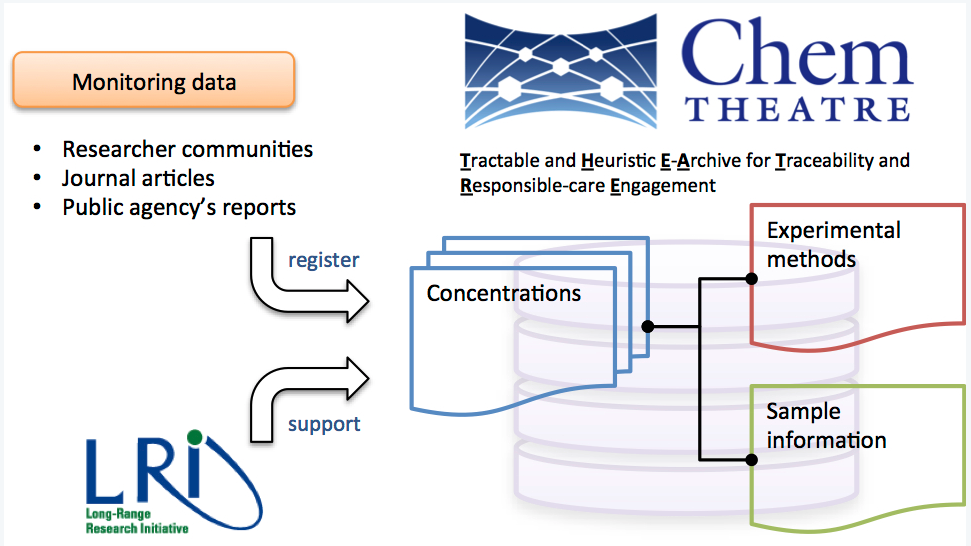 What is metadata?

Sample information (Collection year / month / day, collection region / country / area, latitude and longitude, pH, temperature, water temperature, water depth, sediment depth, scientific name, sex, growth stage, weight, length, etc.)
For details about samples =>Samples
Methods
For details about Experiments => Experiments
Chemical information
For Details about Chemicals => Chemicals 
Advantages of utilizing the data stored in ChemTHEATRE †
Easy to use for modeling or assessment †
All the data are stored in unified format (text style)
Unified unit (water: μg/L, biotic / soil / sediment: ng/g )
Measured values are stored in ChemTHEATRE †
ChemTHEATRE stores and opens measured values even though the original paper provided only the mean values.
Reliable information and data are stored by checking all the data and metadata by a third party before registration. †
You can narrow down the data by place, chemical, sampling year, etc. and view the data. †
You can narrow down the data by selecting place, chemical, sampling year, etc as search parameters.
You can export the data you need easily in text style.
Easy to compare over years 経年、物質ごと、地域ごとの比較研究が容易に †
How to register your data †
accompanied with:


your paper(including supporting info.): pdf

Measured values and LOD (Limit Of Detection):excel

Sample info.(Collection date, Collection place, Latitude and Longitude, etc.):excel

2. 登録担当者が論文、生データを元にChemTHEATREのフォーマットに加工 †
正確を期すため、この段階で不明箇所等を提供者へ問合せ
3. ChemTHEATREへアップロード †
4. 登録完了通知と共に、データ提供者にはデータ、メタデータを1つのエクセルファイルにまとめて返却 †
ChemTHEATREにはどんな情報が登録されている? †
データ検索の仕方 †
エクスポート機能 †
必要なサンプル情報、測定値情報をtsvファイルでダウンロード可能
サイトを利用するにあたり †
学会等での発表 †